Olympia Noise Co. is pleased to announce Patterning 2, the next generation of the award winning circular drum machine.  Patterning 2 introduces a huge number of new features and workflow improvements.  Pattern recording, parameter randomization, ratcheting, swappable drum kits, and a whole lot more.
Pre-order now on the App Store for 25% off the launch price. Expected release : June/July 2018.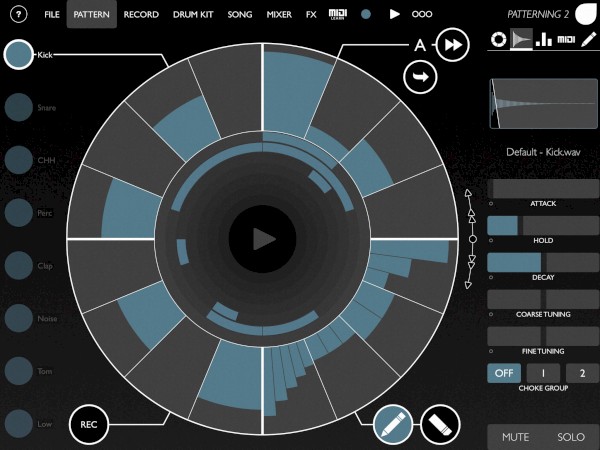 What's New in Patterning 2 :
Record Beats
Record patterns using the new drum pads page or with an external MIDI controller.
Randomize (Almost) Everything
Randomize instrument parameters such as panning, filter cutoff and resonance, tuning, velocity and more. Randomization can be automated on a per step basis.
Next Generation Ratcheting
Creating stuttering beats with up to 8 divisions of a step. Use the Ratchet Decay parameter to create growing or decaying velocities for ratchets.
Drum Kit Switching
Create as many kits as you like within a song and apply them to any number of patterns. Switch samples, effects, and mixer settings when changing patterns to subtly modify parameters or load a completely different palette of sounds.
Quantized Pattern Launch
Switch patterns on the fly and never miss a beat.
Coarse Tune Quantize
The coarse tune parameter can be quantized to specific intervals, making melodic sequencing a breeze. Combine with randomization to create stochastic melodies. Works with MIDI out, too!
Pattern Tempo Changes
Patterns can now override (or revert back to) the song tempo, optionally slewing gradually to new tempos.
Loop Rotate
Set the initial rotation of a loop, offsetting the loop to start on a different step or slide off the grid altogether. Steps can be nudged by single ticks or by regular sub-divisions of a step.
Sample Folders
Easily organize your samples into folders for quick sample loading.
Divide Mode Measure Length
In loop divide mode you can now set the measure length for the loop. So go ahead and divide that measure of 7/8 into 23 equal parts, because you can.
Automation Improvements
Automation recording now latches on with the record button. New automation layers include parameter randomization, ratchet settings, and MIDI gate length.
Ableton Link Updates
Patterning 2 uses the latest version of Ableton Link, with Start/Stop and now includes support for Link's quantum setting.
MIDI Gate Length & Unlimited CC Layers
Automate MIDI Gate Length for MIDI tracks. Gates longer than 100% will tie together with the following step, if present, to create longer note lengths. Unlimited CC automation layers for controlling your MIDI devices.
MIDI Only Tracks
You can now disable audio for a track to make it MIDI only.
Loads of Other Improvements
Streamlined MIDI setup from the Pattern editor, file system improvements, faster loading times and major under-the-hood improvements.
And all the features you've already been enjoying :
Export directly to an Ableton Live Set.
Multi-channel audio export.
Cloud Kits : Download and Share Drum Kits
8 Channel Inter-App Audio Output
Rock solid MIDI Clock
MIDI Output
Ableton Link
Dropbox integration for importing samples
And so much more…
A full set of specifications is available on the Patterning 2 page.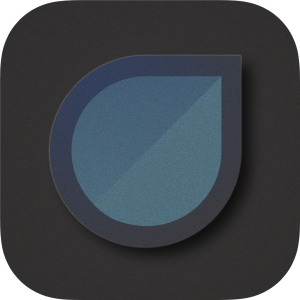 Want to help beta test? Press Inquiries? Drop us a line.